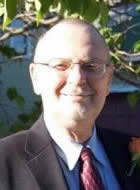 George Stanford Mulhisen, age 68, passed away on Friday, January 29, 2016 after a long struggle with cancer. He was born Jurek Stanislaus Kilian in Landsberg, Germany to Walburga Anneliese Kilian on September 27, 1947 and became a naturalized American citizen when he was 10 years old.

He spent his childhood living both in New York and Germany where he excelled as both a student and athlete. After graduating from Claremont Men's College in California, he worked in the moving and storage business for most of his career.

George has three children with Valerie von Bergen: Amy Elizabeth is married to Clay and has two children, Melissa and Sydney. Melissa Jane predeceased George as an infant. Anneliese Marie has three children, Azaya, Lisetta, and Andreas. Later in life, George had a long term relationship with Pam Baker. Her children, Jolie and Beth, gave them Justin, Paige, and Elise who knew him as Grandpa George. He had a black lab named Jake whom he loved and got to spend his last days with.

He loved being social and had a good, generous heart. George was always the life of the party whether there were adults or just his grandchildren. Playing games, watching sports, guessing the wrapped gifts he was given, not following the rules, and expecting the best from others are just a part of who he was. He will continue to live on in our hearts as that man.

We will miss his silly greeting cards with the sentimental notes, his regular phone calls, and his instructions on "how to build a clock."

A memorial service will be held on Saturday, February 6 at 12 noon at Our Redeemer Lutheran Church, 8520 Winnetka Ave, Winnetka, CA 91306. In lieu of flowers, please make a donation to a Labrador Retriever rescue group of your choice.