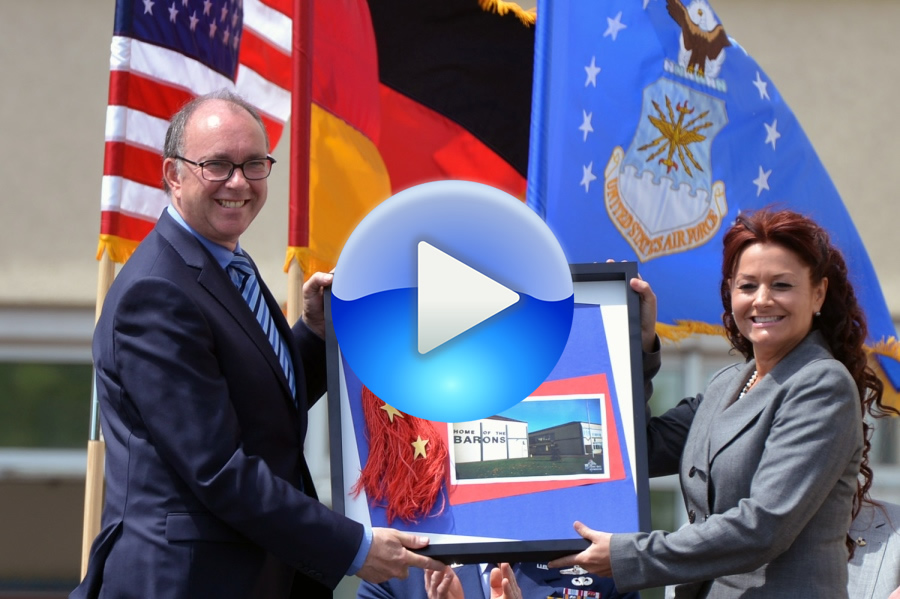 BITBURG, Germany — The Bitburg Barons will soon take their place in history as Bitburg High School closes after 60 years.

Students, teachers, military personnel, families, community members and alumni marked the end of an era at a bittersweet closing ceremony Thursday outside the school — one of the last vestiges with activity on the mostly-deserted Bitburg Annex — exactly one week before students walk its halls for the last time.

The school opened in 1956 — and moved to the current building in 1976. This year, 154 students were enrolled, including 31 in the last graduating class.

The high school is one of the last buildings on the annex to close as the Air Force prepares by summer 2018 to hand over the Bitburg housing area to the German government. The last families moved out in 2014.
---
Frank Jiron '67

Summer, 2017
Part 1. Sad, but true. Bitburg High School and the Barons are no more. I got back from a Germany visit to Frankfurt a few weeks ago. While there I took time for an overnight visit to Bitburg to see our school for the last time. I was last there after Desert Storm when Diana and I took a trip to show her my old stomping grounds. At that time Bitburg Air Base, and I, were still active. Things have sure changed. I stayed overnight at the Eifel Arms Inn on Spangdalem Air Base and went to see our old school buildings twice. The Bitburg housing area is a ghost town. On my first trip of this visit, the gate guard told me I was only the 6th car of the day. The High School buildings we all knew have been deserted for some time.
The next day, I took some more pictures and then drove to the new Bitburg (Middle and) High School built some time ago near the east fence of the housing area. They had a closing ceremony on 8 June, and graduated the last class on 10 June. The last day of school was on 13 June. While taking pictures, a woman came out and asked me if I needed any assistance. (It's not a good idea to take pictures of any US facility in Europe these days.) After introducing myself as a BHS grad, she told me she was a school secretary. As we chatted, she said there were only about 100 high school students left, but that there were lots of teachers. Class sizes for the high school were small, 10-15 students per class. In the heyday of 80's the student population was much larger than in the 60's, as students commuted via a new Autobahn from Hahn, Purm, as well as some other outlying US military installations that have since been returned to the Germans.
Part 2. A new High School - Middle School is being built at Spang, but will not be ready until 2018. Spang was all so different. They have a new and large BX and Commissary that you would instantly recognize if you are military retired and use these facilities stateside. The old gate on the road from Bitburg to Spang is closed and a new gate was constructed closer to the housing area. The housing area has also changed with the additional of some single-family units. While in the Spang BX food court, I struck up a conversation with a young man who was a student at BHS. He bemoaned the loss of the Barons name and said most of the students wanted to keep it as the Spangdalem Barons, but it will change to the "Sabers," the Spang Wing's current nickname. It's kind of sad to see our old school, and the once vibrant community that surrounded it, simply disappear.
But then again, when you think the great class of '67 graduated 50 years ago (yes Virginia, that is a half a century ago!) it isn't all that surprising. My visit there was a nostalgic journey back to BHS and I'm glad I took the time to go. I've got more to tell you, but this report is already too long. Hope to see you all in Chattanooga.