Autumn 2015 - Fredericksburg, Texas click to enlarge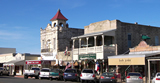 Lyn and Jim Slaughter '66 hosted the 11th reunion of the BHS Classes 63 to 70 in Fredericksburg, Texas. We had a huge turnout that included a favorite teacher and even some people from '71 and '73. Texas Hill Country is always a big draw for it's central location and German heritage.
Fredericksburg had everything - beautiful weather, wonderful food, and tremendous facilities with plenty to see & do. A good time was had by all.